NEW YEAR, NEW VISION
Creating Your Path Forward Through Mandala Collage
Move over Vision Board – It's time for Mandala Collage! Let me invite you to a world of possibilities…
Have you been struggling these past several months, using all your energy to survive, while your playfulness and creativity lay dormant?
Give yourself the gift of creating a brighter future. It's time to reawaken those parts of ourselves that have been hibernating. Time to create a new reality, a new vision for the future. Let's nourish, nurture and cultivate as we remind ourselves of who we are.
MANDALA COLLAGE PLAYSHOP
Saturday, January 2nd, 2021
1 – 5 PM PST on Zoom
In this 4-hour online playshop, art therapist and rhythm facilitator Jeni Swerdlow, MA-ATR will lead us on a journey inward and upward into the new year. Create a Mandala Collage to illuminate your path forward.
Discover images and text that symbolize who you are and what's important to you right now. We'll gather, connect, create and reflect in a fun and nurturing online environment. Light drumming at the opening and closing will help ground and frame the experience. No prior artmaking or musical experience is necessary.
ASK YOURSELF ~
· What is calling to you?
· How do you want to greet the new year?
· What part of you is ready to reawaken?
· What will happen when you allow yourself to explore, create, and discover?
WHAT IS A MANDALA COLLAGE?
Vision Board meets Mandala ~
Perhaps you've heard of a Vision Board – a tool used to help clarify, concentrate and maintain focus on what truly matters to you. These typically poster-sized collages contain all kinds of images and text that represent a goal (or goals) you have. Vision boards are based on the idea that your mode of thinking directly affects what the universe gives you. If you put positive mental energy into the universe, you'll be the recipient of positive outcomes.
The word Mandala means "circle" in Sanskrit. The circular design symbolizes the idea that life is never ending and everything is connected. A Mandala is a symbol of the universe in its ideal form, and its creation signifies the transformation of a universe of suffering into one of joy. It can also be used as an aid to meditation, helping the meditator to envision how to achieve its highest self.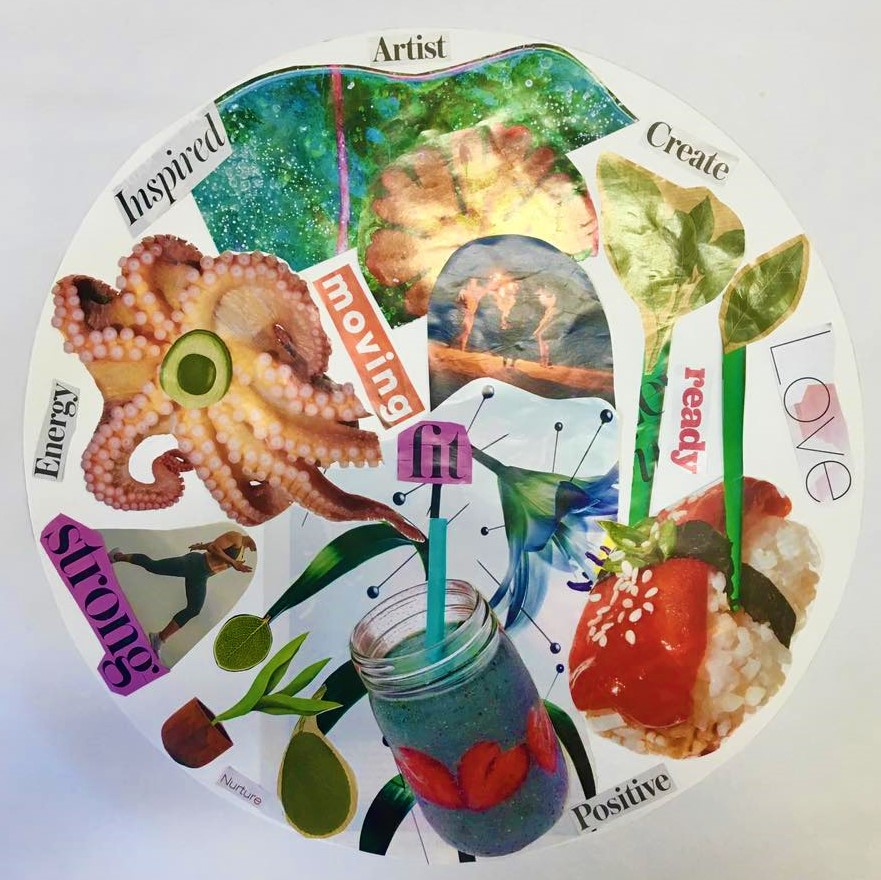 IMAGINE ~
· Awakening Awareness
· Inviting Intention
· Discovering Direction
· Creating Connection
· Playing with Purpose
COST FOR THE 4-HOUR EXPERIENCE:
$40-75 Sliding scale (Pay what you are able) – Size is limited to 25 participants
OPTIONAL – Add $15 for Care Package Starter Kit
PLUS AS A SPECIAL BONUS YOU'LL RECEIVE:
· Two specially curated Spotify playlists to listen to during your journey and beyond – Rhythm Reboot (energizing) and Restorative Rhythms (relaxing)
· A list of "10 EssentialTips" for continuing the creative process beyond the playshop
QUESTIONS?
Contact Jeni Swerdlow at jeni@drummm.com or 510-316-2850.